Has Dentist's Probing Caused My Abscess?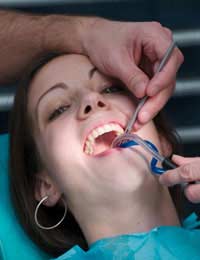 Q.
My husband and I have both been having peridontal maintenance at our dentist for the last year. I have had no bleeding gums, no longer have any plaque count, but I do now have an abscess where I have previously within the year had a porcelain inlay fitted and now need route canal treatment. My husband is also now on his second abscess during this maintenance programme.
Is there a connection to this; it seems too much of a coincidence that after all this probing we are both getting the same problems and we are not the only ones. We had no problems prior to these treatments.
(S.A, 1 July 2009)

A.
Given that you're both suffering from the same problem – dental abscesses – it is no surprise that you would question whether it has occurred as a result of the dental treatment you both received. However, there are a couple of factors to consider before concluding that the treatment did indeed cause the abscesses.
Causes of a Dental Abscess
A dental abscess tends to happen when your tooth nerve is infected. While this is typically due to decay, it can also occur from injury to the tooth. Pus begins to form and there is nowhere for it to 'escape' but through your tooth's root.
In turn, pressure occurs beneath your tooth, leaving you with pain and sensitivity. For some people, the pain can be quite bothersome and may throb and leave one side of your face feeling sore. There are a number of reasons why you would suffer from a dental abscess and dental surgery is an uncommon but possible cause.
How Did the Abscess Occur?
Although unlikely, it is possible that the abscess did occur from treatment. However, this would be considered an unfortunate side effect of the treatment and not automatically the fault of the dentist. Some people can be more prone to an abscess than others as well, so you should keep this in mind.
Still, it's important that a dentist does perform dental work under extremely stringent, hygienic and regulated conditions. You should always ensure that a qualified, registered dentist performs dental work and that the premises and work appear to be done under appropriate conditions of cleanliness.
Preventing a Dental Abscess
At home, you can help to prevent a dental abscess by ensuring you have good oral hygiene, which includes daily brushing, flossing and consistent, regular dental appointments to check that you don't have decay.
It might be wise to visit another dentist for a second opinion regarding your abscess and the repeated abscesses suffered by your husband. This will hopefully shed some light on your specific cases and help you identify the exact cause, letting you prevent new abscesses and have a healthy mouth, teeth and gums.
You might also like...
@unhappy - you really need to go back to the dentist and have him/her check your teeth and to see whether you have an infection or abcess. You also need to complain to your dentist about the level of pain caused when having the deep clean. You won't be the only one. It happened to me once, I suffered more pain when having my teeth cleaned than I did having root canal work. I think the hygienists have gone a bit far, it felt like I was having my teeth pulled without any pain relief.
Nicky
- 6-May-15 @ 10:37 AM
I have had a very similar experience.I went to the dentist with a minor toothache a few months ago.The dentist recommended a deep clean on my teeth. I have extremely sensitive teeth.Since then I have had nothing but severe pain and sensitivity in my mouth and jaw.I can hardly eat anything hot or anything cold.Two weeks ago I had a course for antibiotics for a totally unrelated problem and all the pain went away.Now it is back again and the toothache is worse than ever !I am convinced this is the result of the treatment I received at the dentist.I hear that for deep cleaning you should be given an antibiotic but I wasnt offered one.I have never had this type of pain and I have complained to the dentist's practice manager as I don't want to go back to see dentist and she starts prodding and poking and making the pain worse.
unhappy
- 6-May-15 @ 9:01 AM