New Ways to Detect Oral Cancers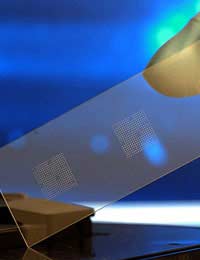 Oral cancers can affect anyone but they are more prevalent in men and older adults. Early diagnosis can make all the difference in a better prognosis but diagnosing oral cancer can be a challenge. The ideal way to diagnose would be in a non-invasive manner and quickly. Fortunately, a new study shows what may be a better way to diagnose oral cancers.
Researching New Methods of Diagnosis
Researchers have recently found a way to diagnose oral cancers that might satisfy all of these requirements. By performing a very simple, quick swipe with a special biochip, they were ninety-three percent effective in detecting not only cancer but also pre-cancerous lesions. These results are considered comparable with the commonly used methods today for detecting oral cancer.
What is Oral Cancer?
Oral cancer is not as well-known as many other cancers and yet it can be more deadly. It has a higher death rate than ones we commonly hear about such as cervical cancer. This higher death rate is generally related to it being diagnosed too late, which makes better diagnosis key to improving the outcome.
Oral cancer commonly develops on the tongue or floor of the mouth and less commonly in the salivary glands. Symptoms range from hoarseness to a lesion that does not heal within two weeks. Diagnosis can be challenging in that the mouth can easily suffer trauma from something as simple as biting your tongue or cheek. People may mistakenly assume that a lesion is nothing to worry about and by the time they seek help, their prognosis is poor.
Using Biochips for Cancer Diagnosis
The nano-biochip technology was developed at a university in the United States. These biochips have the ability to use a stain to analyse biomarkers that can detect a number of diseases, including oral cancers. The biochips hold great promise for reducing the costs associated with traditional kinds of diagnostics devices.
Less Pain and Faster Results
Another benefit to this technology is that it is much less painful than if a person undergoes a biopsy. Results are also available much faster – in fifteen minutes rather than a few days. Because they are simpler and less invasive, they may mean that people are less likely to 'dread' a procedure and are more likely to seek medical help when they find a lesion.
How it Works
It is important that people still see their dentist or physician regularly. Typically, a dentist will spot a lesion in the mouth, which is not a difficult process. Where it gets complicated is that taking the biopsy to check for cancer can be painful, costly and time-consuming.
Instead, a simple and gentle touch of a brush on the cheek could diagnose cancer. It may even mean that one day a dentist can check for cancer on-the-spot after finding the lesion, further reducing any delays in an accurate diagnosis. This could mean even better survival rates for patients.
Better Oral Cancer Survival Rates
Detecting oral cancers early on can mean that the survival rate is as high as ninety percent. Compared to the approximately sixty percent survival rate at the five-year level, this is a significant improvement. New ways to detect oral cancers using the nano-biochip can be the key to helping people survive cancer and live healthy lives.
You might also like...