Preventing Tooth Loss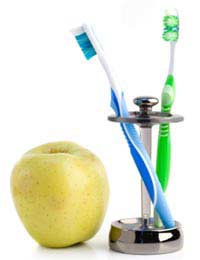 Estimates vary considerably regarding how many people are missing all of their teeth. It is, however, thought that one fifth of adults over the age of sixty-five have lost all of their natural teeth, primarily because of tooth decay or gum disease.
In another survey, nearly seventy percent of adults who were between the ages of 35 and 44 had lost one or more teeth. The tooth loss was due to reasons such as accidents or tooth decay.
Oral Hygiene Programme
The most important prevention for tooth loss is to participate in a regular oral hygiene programme. This means brushing at least twice daily, flossing each day and avoiding whenever possible food choices that bathe the teeth in sugar, such as soft drinks.
Regular Dentist Visits
Regular visits to your dentist are important because not all problems are visible to your naked eye. Tools such as x-rays can help spot problems before they worsen. Your dentist can also talk to you about changes in your health – such as new medications or signs and symptoms that suggest tooth decay.
General Health
The foods you eat and also the lifestyle you live, plus medications you take and diseases you may suffer from all can affect your oral health. Smoking is a significant risk factor that can lead to missing teeth. Diseases such as diabetes that affect circulation can further influence your susceptibility to losing teeth.
Connect With Your Doctor and Dentist
It's important that you talk to your doctor about any side-effects from medications. A number of medications can cause dry mouth, which can then predispose you to decay. This is because saliva has a positive effect on preventing bacteria and decay in the mouth.
Any medications or even diseases that can lead to dry mouth should then be communicated to your dentist. Sometimes where a medication is taken long-term, dosing can safely be adjusted to reduce the side-effect of a dry mouth. The important aspect is that this is communicated early on rather than later after problems occur from the disease or medication.
Replace Missing Teeth
Replacing missing teeth is important for many reasons. Without a tooth and chewing action to stimulate bone, you will likely experience bone loss over time. This can lead to changes in the jaw, with a sunken jaw being the end result. In turn, you can look older than your years.
For someone who is missing teeth, their chewing habits can change and they may avoid certain foods such as meat, fruits and vegetables that are difficult to chew because of missing teeth. An ideal solution is considered by most experts to be a dental implant. The implant functions as a natural tooth would, allowing you to enjoy all your favourite foods. It also does not lead to the bone loss that occurs with an untreated missing tooth or dentures.
Healthy Teeth for Life
The majority of tooth loss is preventable, which means you can take control of your oral health now to prevent tooth loss later. Talk to your dentist and your doctor about your specific health risks and how you can treat any current tooth loss while preventing further losses in the future.
You might also like...