Tooth Loss and General Health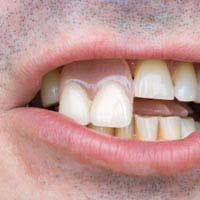 In the same way that your general health can influence tooth loss, the reverse is also true. Tooth loss may seem like something that only happens in your mouth, but the consequences are ones that can affect your overall health.
Getting Treatment to Prevent Health Consequences
If you have a missing tooth or have lost all of your teeth, then you should consider how neglecting to appropriately treat missing teeth could impact your general health. Missing teeth go beyond mere aesthetics and can harm your entire general health.
Gastrointestinal Problems
One problem that can occur with missing teeth is that you have difficulty chewing, which can cause you to swallow more air in a condition known as aerophagia. Another problem is that individuals who are missing all of their teeth and have dentures can suffer the same fate.
Poorly fitting dentures are a common complaint and can lead to excessive swallowing of air, both during meals and between meals. In severe cases this can cause a significantly distended stomach and extreme discomfort and indigestion, increasing your risk of gastrointestinal conditions. Poor food choices from chewing difficulties can also affect digestion.
Nutritional Consequences
When a person is missing teeth, their food choices are often affected. Even those who wear dentures can still struggle to eat the foods they normally enjoy. Fruits, vegetables and chewy, tougher choices such as meat may be difficult to eat.
To respond, an individual might then choose softer foods that may be unhealthy ones such as sugary, junk foods. Malnutrition can result as can obesity from an excess of calories in poor, soft food choices. With obesity, a person can suffer from an increased risk of health conditions such as diabetes, stroke and heart disease.
Psychological Effects
The psychological effects of missing teeth are unfortunately still not widely discussed and given deserved attention. People who are missing teeth may not smile as much and may withdraw from social activities such as eating in public at restaurants. Those who wear dentures may fear their dentures falling out when they speak or eat.
All of these effects can place enormous psychological stress on an individual. It is well established that stress affects general health and can underpin the development of disease.
How Tooth Loss Influences Speech
Your teeth play a vital role in speech. Pronouncing certain letters requires contact between the lips, tongue and teeth. Without teeth, your speech may be affected, making it harder to communicate clearly. This can lead to embarrassment and less communication with others for fear of poor speech.
Improving Your Health
Tooth loss does not have to result in negative consequences if you treat missing teeth. For those who choose cheaper options such as dentures, it's important to ensure a good fit and to monitor how they may impact your food choices.
Any missing teeth should be treated and not simply left without attention. Speak with your dentist about replacing missing teeth and be sure to communicate with your doctor if you are already suffering effects to your general health. Tooth loss does not have to harm your general health if you take action and obtain treatment.
You might also like...