Types of Dental Implant Surgery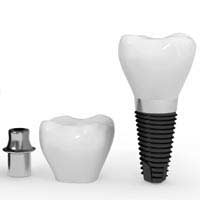 There are a number of different kinds of dental implant surgery. Since a dental implant integrates with your jawbone, they are a stable, dependable support for artificial teeth. Individual crowns can be put on top of the implant for a secure solution to missing teeth.
Dentures and bridges can even be placed on the implants, preventing the shifting and movement that are commonly experienced. With this security, you can eat, speak and enjoy all the activities you normally would with a full set of natural teeth.
Always Talk to a Qualified Dentist
You may have questions about the types of dental implant surgery. While information is provided here, you should speak to a dentist about the best options for you.
Why Dental Implants?
Many people find that typical bridges or dentures are very uncomfortable and hinder normal movement and functioning. They may experience sore spots or even feel a gagging sensation from a foreign object in their mouth that does not feel natural.
For a traditional bridge, it is attached to teeth on the sides of space remaining from the missing tooth, which can harm the natural teeth. With dental implants, adjacent teeth do not have to be used as part of the solution to secure the new teeth.
Single or Multiple Tooth Replacement
For replacing a single tooth, in most people one implant and a crown will be sufficient to replace the tooth. Provided the patient has sufficient bone and gum tissue, the surgery is very straightforward and efficient for the patient.
For multiple missing teeth in different places around the mouth, single tooth implants will likely be used. If a patient is missing several consecutive teeth, however, they can still be replaced individually or with an implant-fixed bridge. This is similar to a traditional bridge but supported with tooth implants instead of natural teeth. This prevents damage to healthy, natural teeth.
Replacing All Teeth
If all teeth are missing, a more economical approach is to use two to four implants that can be used to support full or partial dentures. The key benefit here is that the implants offer greater stability, such that patients do not have to be afraid of their dentures shifting or falling out. The denture can be designed smaller and more precisely to fit the implants as well. Overdenture bars that are fixed with implants are becoming a more popular choice.
Implant-fixed bridges are another option if all teeth need replacing. Here, six to eight dental implants would offer support for a bridge. The most expensive option but very aesthetic would be many single tooth implants, which will look and feel just like natural teeth.
Bone and Tissue Grafting
Someone who has good overall physical and oral health is an ideal patient for dental implant surgery. If you have sufficient bone in your jaw to support one or more implants, along with healthy gum tissue free from disease, you are a good candidate for the surgery.
Those who don't fit this profile may still be able to get dental implants but could require additional surgeries. You may require grafting to ensure a secure result that looks attractive.
Choosing Dental Implant Surgery
Your dentist will let you know which dental implant solutions are available to you and help you find one that fits your budget and needs. There are still many other options that go beyond the ones listed and it's important you speak with your dentist to access newer treatments.
Dental implant options are constantly advancing; one example is that there are now implants that work particularly well for poor bone quantities, helping reduce a patient's need for grafting. For most people who do get dental implants though, they can enjoy a high quality of life eating the foods and participating in the activities they normally enjoy.
SAFE DENTISTRY IS FOR SALE.
This website is for sale [more info].
You might also like...