What Causes Tooth Loss?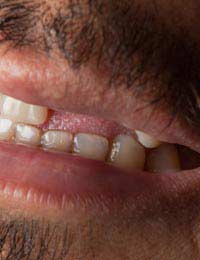 Tooth loss is caused by numerous factors – many within your control but a small number of others that predispose you to tooth loss. It's important to learn about ways you can prevent tooth loss because it can be costly to treat once you have lost teeth.
Estimates vary considerably regarding how many people are missing all of their teeth. It is, however, thought that one fifth of adults over the age of sixty-five have lost all of their natural teeth, primarily because of tooth decay or gum disease.
Periodontal Disease
In one study of nearly two thousand patients, periodontal disease underpinned more than half of the teeth removed in adults over the age of 35. Periodontal diseases include milder gum diseases such as gingivitis as well as periodontitis where gum disease is advanced and gums pull away from the teeth. A major risk factor for periodontal diseases is smoking along with certain medications and diabetes.
Diabetes and Tooth Loss
Diabetes affects many systems in the body, including circulation. Delayed healing and susceptibility to infections is a problem for diabetics. People who have diabetes can suffer from a loss of oral tissue, which can lead to tooth loss. The better a diabetic manages their blood sugar and commits to a consistent programme of oral hygiene, the better they can help prevent complications relating to their oral health
Smoking and Tooth Loss
Smokers are more likely to suffer from tooth loss. The obvious choice is to quit smoking. Secondhand smoke can also contribute to tooth loss in those who are non-smokers. Talk to your doctor about getting support to quit smoking.
How Your Genes Affect Oral Health
Genetics also affect tooth loss. Your tooth and oral development may be negatively affected by your genes, which could increase the risk of tooth loss. Your best approach is still to partake in a regular programme of oral hygiene.
Other Causes of Tooth Loss
A number of other choices you make can impact how likely it is you will lose teeth. Hormones can play a role as can a poor diet or badly fitting dentures. How your teeth are aligned and how well you're able to clean them affects tooth loss. Many other diseases or medications that cause a dry mouth can further increase the risk of tooth loss.
Losing Teeth Affects Natural Teeth
A perhaps surprising association is that if you have already lost teeth, you are more likely to lose additional teeth. It is not necessarily as simple as the underlying factors above leading to more tooth loss.
Once you lose a tooth, the surrounding teeth are affected. Teeth can shift and without a tooth in the gap, you lose bone, causing you to look older than your years.
Preventing Tooth Loss
With so many causes of tooth loss, there are some things you just can't avoid. You can still take the best measures to prevent tooth loss – commit to a programme of good oral hygiene and eat a healthy, balanced diet.
If you do lose a tooth, ideally plan to have it replaced with an implant. Those who replace a missing tooth with an implant can avoid the harm to adjacent teeth. Your dentist can discuss all of the options available for you, as well as how to best prevent tooth loss.
You might also like...