Dental Nutrition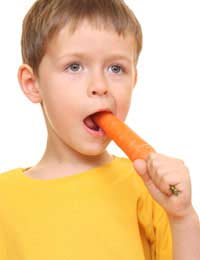 As with all areas of general health, the food that we eat and the liquid that we drink play a large part towards good dental health. Good dental nutrition should begin early in life, and if a pattern of healthy eating is set in place, it should contribute to less oral health problems and lead to an overall healthier lifestyle.
Dental Nutrition and Tooth Decay
The food and liquid that we consume is the main cause of tooth decay. Food particles become lodged between teeth and gums, and lie on the surface of teeth. Brushing after meals and the mouth's saliva will eliminate some of the bacteria, but if plaque is allowed to form, the decay process will begin and only a professional dental clean will be able to eliminate it.
Bacteria in our mouth need carbohydrates to exist in order to produce acids that will wear down the enamel on teeth and then cause cavities. If you cut down on the carbohydrates then you are taking a large step towards good dental nutrition.
Dental Nutrition and Children
Infants and toddlers are particularly susceptible to tooth decay, especially when bottle feeding. Nursing Bottle Syndrome is an easily avoidable condition that affects young children who have been allowed to sip sugary liquids continuously throughout the day. Fruit juices, soft drinks and milk all contain sugars that will stick to the teeth, cause plaque, and contribute to tooth decay. This type of tooth decay particularly attacks the upper teeth and the lower back molars.
Milk is important for growing children as it contains essential vitamins and calcium that are essential towards good tissue and bone development. But in order to limit the potential of decay it is important that a child is not allowed to go to bed with a bottle containing sugary drinks such as milk or fruit juice.
Children and teenagers are the number one consumers of the largest contributor towards tooth decay; the fizzy drink. Fizzy drinks, along with sugary snacks, are high in sugar and acids will keep attacking the teeth for around 20 minutes after these have been consumed. Snacks are important to ensure that children receive enough calories every day, but brushing after consumption is essential to remove the bacteria. Healthy snacks for children include cheese, popcorn, fruit, vegetables and nuts.
Fruit, Vegetables and Dental Nutrition
Fruit and vegetables are seen as the healthy option when considering dental nutrition but they do still contain carbohydrates that bacteria will live on. However, the high fibre content in fruit and vegetables will counteract the fermentation of bacteria and help stop decay. It is still very important to brush teeth daily if only eating fruit and vegetables. The longer food is allowed to stay on the teeth the greater the damage will be. Dried fruits such as raisins are not seen as a healthy option and will cause just as much damage to the teeth as sweets or other sugary snacks.
Decay Levels in Dental Nutrition
Different types of food will have varying levels in the contribution towards tooth decay. Some foods are known to cause low or high levels of decay while others will actually prevent decay. Foods that have no known decay levels will include fish, poultry and meat along with fats and oils. Foods that can actually prevent decay will include cheeses and nuts.
The higher the carbohydrate content the higher the potential for decay, foods such as cakes, crisps, biscuits, ice cream, dried fruits and white bread should all be limited. As previously mentioned, fizzy drinks, fruit juices and some canned fruit are potential contributors towards tooth decay. Fast foods, which are loved by children and teenagers, are also potential risks towards tooth decay and should be limited.
With a busy lifestyle, dental nutrition is sometimes forgotten about; if we all had the time we would brush and floss religiously after each meal and snack. But good dental nutrition combined with daily brushing, flossing and regular visits to the dentist will mean fewer cavities and healthier teeth and gums.
You might also like...