Care and Maintenance of Dental Implants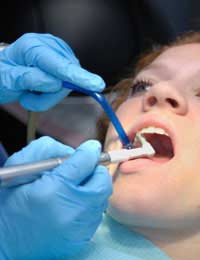 As more people learn about the benefits of dental implants, they are making the choice to replace missing teeth with a dental implant. But while much of the planning and dental surgery is in the hands of your dental surgeon, you also need to understand the important role you play in the aftercare aspect of dental implants.
Caring for dental implants and ensuring they are maintained requires an active role on your part. Fortunately, it is not a difficult one and primarily requires dedication to the basic oral hygiene practices important to natural teeth.
Initial Care and Maintenance
Your dentist will advise you of any initial precautions to take in the early healing phase. It's particularly important because here, your bone 'fuses' to the implant in a process known as osseointegration.
Maintaining good overall health and eating a balanced, nutritious diet is key to ensuring your body heals well during this phase. Avoid abrasive toothpastes and harsh mouthwashes during this time, as they can be damaging to sensitive tissues and restoration work. Many dentists will actually recommend avoiding abrasive 'stain-removing' toothpastes long-term too, as they could lead to exposed tooth enamel and receding gums, not to mention irritation to the mouth.
If you have received an overdenture as a better alternative to just dentures, they may need some realignment over time to ensure good fit. Any natural teeth will need to be checked at that time as well. One of the benefits to dental implants is that the impact on natural teeth nearby is minimised relative to having just dentures or leaving the gap untreated. Regular brushing and flossing is just as important to prosthetic teeth on dental implants as it is to natural teeth. This will keep all teeth free of decay and plaque.
Long-Term Oral Health
Sometimes, the reasons a person loses teeth in the first place can be due to poor oral hygiene. If you have previously not taken care of your teeth and suffered decay and tooth loss, this will continue to affect the rest of your natural teeth as well as your dental implants.
Lifestyle Changes for Healthy Dental Implants
You may need to make lifestyle adjustments too, particularly where you might have been eating a diet high in sugar. Talk to your dentist about where you can make beneficial changes to your lifestyle that may help support long-term positive outcomes for your dental implants. Smoking is still linked to a number of oral health problems and won't just delay your initial healing but will affect long-term dental health too, compromising gum health in particular.
Enjoying Your Dental Implants
Dental implants are an ideal option today, with less chair time due to more advanced techniques for surgery. But any problems that led to you needing them in the first place may prevail if you don't make changes your dentist recommends.
Also important is that you treat your dental implants as you would natural teeth – with regular brushing and flossing, plus trips to the dentist for checkups. With a bit of care applied consistently, you can enjoy your dental implants for life.
You might also like...