Dental Facelifts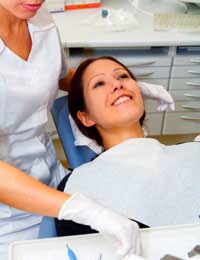 Teeth are integral part of the face and as such can detract or enhance a person's facial appearance. Dental facelifts are the latest alternative to traditional facelift procedures, and the facial appearance can be drastically changed with common dental procedures. The dental facelift is being promoted as a revolutionary process using traditional dental procedures.
Facelift or Cosmetic Dentistry?
Dental facelifts, sometimes known as dental makeovers, utilises cosmetic dentistry techniques to improve the facial appearance of customers. But traditional dental procedures are also used to replace or rebuild missing teeth, which are the biggest dental factor towards the ageing appearance. Over time the wearing down of teeth or missing teeth can have a significant effect in adding years onto a person's face and reversing this process can be achieved with a dental facelift.
Dental Ageing Effects
We can see the ageing effect of missing or worn down teeth simply by looking at older people who have not corrected these problems. The appearance may be one of a sunken face with a collapsed appearance around the mouth area. Vertical lines will also be prevalent around the mouth, and the overall appearance around the lower facial area will be of slack, loose skin.
The slackening of the lower face will also make a significant difference to the rest of the face, giving an overall aged appearance. Lack of skin tension can be seen over the whole face including the eye area, cheeks and forehead, and theses issues can all be alleviated with a dental facelift.
Dental Facelift Procedures
Dental facelifts combine several traditional dental procedures with cosmetic treatments. The amount of procedures needed will be dependant on how badly damaged the teeth are but can combine dental implants for missing teeth with veneers, crowns and tooth whitening. A dental facelift is the umbrella and the dentist will assist you in choosing the correct amount of treatments that will be of most benefit to your face. You can also choose to have multiple treatments at the same time or use a step by step approach and pay for each treatment as and when it is performed.
Benefits of the Dental Facelift
The condition of a person's teeth and their ability to display an unhampered smile can make a massive difference to confidence and personality. Having to continually hide bad teeth especially when smiling can be a socially debilitating experience. Dental facelifts not only make a difference to the teeth but also make a significant difference to the entire structure of the face, especially around the mouth and cheeks.
Sagging of the skin can be reduced and some patients have claimed that after certain dental facelift treatments there was also a difference felt to the tension in the neck and shoulder area. Dental facelifts are aimed at rejuvenating the appearance of the face and providing a healthy smile, both of which can give benefits to a person's lifestyle and sense of well being.
Dental Facelift Providers
The dental facelift is a relatively advanced branch of dentistry and may not be offered by all dentists, although most dentists will be able to perform many other cosmetic procedures. Dentists who do offer dental facelifts will be able to use computer imaging to show the before and after effects of the process. They will also have training in other techniques including facial muscle treatments to improve the flow of blood to the skin and muscles. Consult your own dentist who may be able to refer you or give advice on this type of procedure.
You might also like...