Ozone Dental Therapy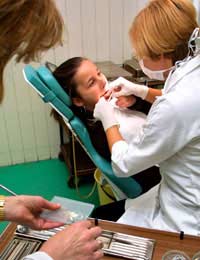 If you are looking for the latest advancements in cutting edge dentistry procedures then look no further than ozone dental therapy. Although ozone therapy is being practiced by some dentists in the UK, it is still undergoing approval by the Food and Drug Administration (FDA) in America. This latest dental treatment uses ozone, which is a reactive oxygen molecule, to kill bacteria in less than a minute. Some dentists are using it as an alternative to drilling and filling cavities.
How Ozone Therapy Works
High concentrations of ozone will kill bacteria very quickly, and the agent is around a thousand times more powerful than other bacteria killing agents such as bleach. Studies have shown that it only takes 10 seconds of ozone therapy to kill 99 percent of bacteria in a patient's teeth including fungi and viruses.
Dentists that do use ozone dental therapy claim that it is an excellent preventative measure in combating tooth decay. If you are the parent of a large family then think of the advantages of early prevention of tooth decay; no more expensive fillings or rotten teeth.
The Tools of Ozone Therapy
Decay and bacteria are identified in areas of the teeth, usually with the help of a laser. A suction cup is then used to direct the ozone onto the desired area. With the bacteria completely eradicated the dentist will then place a special mineralisation agent onto the clean area that enables the healing of the tooth. Follow up visits will be used to ensure that the bacteria have not reappeared; if it has then more ozone treatment may be needed. Patients can use mineral toothpastes and mouthwashes at home to help their teeth re-mineralise.
The Benefits of Ozone Dental Treatment
According to some, ozone treatment is excellent as a preventative measure against future decay and dental work needed to correct the damage caused by bacteria. Benefits also include:
Eliminates the use of drills and fillings.
Eliminates the use of anaesthetics.
Kills 99% of bacteria in cavities.
Can whiten discoloured cavities.
Excellent for nervous or anxious patients.
Widespread Use of Ozone Dental Therapy
Although it has not yet been granted approval by the FDA in America, ozone dental therapy has been used for some time in Europe, Canada, Australia and New Zealand. It is used by some dentists in the UK, but also has its sceptics who think that may just be a flash in the pan gimmick that will die out. However, clinical tests by St. Bartholomew's Hospital in London and The Royal London School of Medicine and Dentistry proved that ozone dental therapy did show successful results.
Financial Cost of Ozone Dental Therapy
If you can find a dental practice that is advanced enough to perform this type of treatment, you will no doubt have to pay for it. As a long term preventative measure in combating tooth decay it is not prohibitively expensive, but the price will escalate depending on how many teeth are to be treated. It is unlikely that this treatment will be available on the NHS or will be claimable from dental insurance policies.
Ozone dental therapy could be the way forward in combating tooth decay and preventing the cycle of cavity decay. Most people are willing to pay the extra financial cost if long term benefits to their health can be seen. Contact your own dentist for more information on ozone dental therapy, he or she may be able to give advice or refer you to a dental surgery that provides this service.
You might also like...
Any good dentist that offer ozone therapy preferably in the west midlands or surrounding areas?
Sue
- 30-Jun-23 @ 1:18 PM
Hello Andie I had this problem with my gums I had deep pockets . Brehens practice has be been a God sent , they do laser and do ask for Soniya , she is an expert in laser , I had deep pockets and today all gone I began my treatment 2019 and completed 2020. Today my gums are no longer receding. I looking forozone I don't want a root canal. It can be the worst pain you will experience unless it's treatedwith ozone and laser. Here is the address Brehens dental practice 21 Thurloe Place, South Kensington,London, SW7 2SP 0207 584 8810 21 Thurloe Place South Ken London SW7 2SP United Kingdom
Amy
- 20-May-23 @ 7:45 PM
Hi I am looking for an Ozone dentist in the Newcastle upon Tyne area if anyone can help?
Leeds Mick
- 22-Apr-23 @ 10:06 AM
Hi, I'm looking for a dentist in Cambridge, UK, that uses ozone therapy in their practice, can you help please, as an internet search has brought up nothing. Thanks
none
- 20-Feb-23 @ 1:37 PM
Hello, how can I find a list of dentists in Surrey and SW London who are offering ideally both NHS dentistry plus Ozone Treatment? Any help much appreciated.
Diet
- 22-Jan-21 @ 8:55 PM
Lot's of people asking the same question. Where can you find a dentist using Ozonetreatment. Searched online and it seems London and the North are the only ones. I need someone in the South West or near. Is there a UK list of dentists using this treatment. Thanks.
Alan
- 9-Jan-20 @ 5:13 PM
Hello, i have had root canals and also still suffer from advanced periodontal disease Is there a list of dentists in London or Tgere about who practice ozobe therapy? Thanks
Andie
- 27-Apr-19 @ 3:03 PM
Hi Since i had root canal done has caused me lot of doenside on my health evdn though i look after myself and diet. Recently i have had lump in my chest which could be due to root canal i had done. What shall i do have root canal taken out?? Whats the substitute for it
Zee
- 15-Feb-19 @ 11:35 AM
Like Ann, I have also read the What Doctors Don't Tell You article on Ozone dental treatment and would like to find a dentist in the London or outer London area who does Ozone treatment.
Sue
- 24-Jan-19 @ 4:31 PM
I live in Dorset and want to know the nearest dentist that will treat my receding gums with ozone treatment . A honest dentist as I've had treatment in private dentist and been ill advised and paid lots of money for treatment to remove all teeth on bottom jaw and have implants on dentures which have all fallen out so feel like I should have persevered with keeping my teeth and trying to improve them
Sha
- 10-Nov-18 @ 4:23 PM
Do you know any dentists in London or outer London who use ozone to kill bacteria in teeth and gums please? 'What Doctors Don't Tell You' has a great article on how ozone can save teeth in their November 2018 magazine.
Ann
- 28-Oct-18 @ 4:05 PM
Hi I am looking for a dentist that uses ozone therapy in the south west pf England.Is there a list anywhere?
nicola
- 12-Apr-18 @ 11:46 AM
I extracted the tooth to 1 month ago and it is not healing before the ectration I took 3 boxes of amoxiline and after the extraction two more boxes and it is not healing I am having a lot of pain and it is infected the only solution and to use ozonium because the antibiotics do not more effect. Thanks
Dri
- 15-Nov-17 @ 6:50 PM
I have a 'pocket' in my low jaw bone below a crowned molar. The tooth is starting to be sore and I am having early signs of infection. My dentist is looking into saving the tooth by filling the pocket with bovine bone but he said that on the long run it would be better to remove the molar and have an implant. I would like to try Ozone Therapy to heal the bone. I live in London, are there any certified Ozone Dentists in London that you could recommend at a honest price? I am tarting to despair, time is running out, Any tip is appreciated! Tthank you! Kat
Kat
- 20-Jul-17 @ 10:53 PM
I've been advised to look into ozone treatment for my root canal, and changing my silver fillings for non-metal amalgam. To improve my overall health. Please can you advise me on tremendous available and the possible cost of procedures Kind regards
Rabbit
- 2-Jan-16 @ 10:49 AM