Effects of Tooth Loss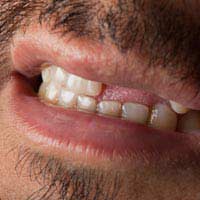 Tooth loss is a problem that can affect anyone but some factors predispose a person to tooth loss. The best approach is to prevent it from occurring but regular dental visits to address decay can help save your teeth in the long run.
Preventing Tooth Loss
Preventing tooth loss from occurring means you need to have a healthy diet and lifestyle that doesn't include smoking and excessive sugar. It also means partaking in a consistent programme of oral hygiene by brushing at least twice daily, flossing regularly and seeing your dentist for check-ups and treatment.
By learning about how tooth loss can affect you, it will hopefully prompt you to take better care of your teeth. It can also be the encouragement you need to get your children, family and friends on the right path to preventative dental care.
Social Problems from Tooth Loss
The social effects of tooth loss are enormous. If you have gaps in your mouth, it can be the first thing people notice and detracts from the rest of your appearance. It can affect your social circle, dating and relationships or even attract stares from strangers. As superficial as it may seem, the reality is that people will judge.
Financial Effects of Tooth Loss
Studies have shown that first impressions count, which includes a healthy smile. Those who experience tooth loss can give the impression that they don't care for their teeth. This may suggest to a potential employer that you don't take pride in your appearance and look after your health.
For an employer, this may translate to the idea that you won't manage things properly at your job either. Unfortunate as it may be, gaps in your smile can prevent you from getting the job you want.
Problems with Daily Functioning
Tooth loss affects your ability to function each day. In particular, if the missing tooth or teeth are to the back of your mouth, chewing can be compromised. This can affect your ability to eat a wide range of foods, especially fruits and vegetables that are vital to good health.
An inability to chew food properly can affect digestion. Contrary to popular belief, digestion does not start in the stomach but begins in the mouth when you first begin eating. Saliva production and enzymes help to break down food. When you can't chew food thoroughly, digestion will not be at its best.
Enjoying a Healthy Smile
If you do suffer from tooth loss, talk to your dentist about whether you are a candidate for implantation types of surgery. Although they tend to be costly, you can sometimes use monthly payment plans to finance the dental work. Above all, you will need to address those factors that led to the tooth loss in the first place.
While some may have experienced a knocked out tooth, most tooth loss occurs from preventable causes such as poor oral hygiene and neglected decay. Take action today to prevent and treat the causes of tooth loss so you can enjoy a beautiful smile for life.
You might also like...