Can You Respond to a Dental Emergency?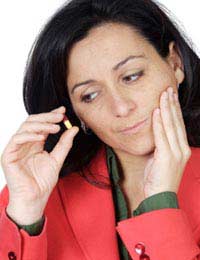 Dental emergencies can happen to anyone – including your children. Whether it's a knocked out tooth or an infection, not knowing what to do can make it more likely things will get worse before they get better.
Handling a Bad Toothache
While a toothache may sound minor, for some it can involve incredible pain. Generally, severe pain in the mouth should receive prompt medical attention. The first thing you should do is contact your dentist and explain the symptoms. Teeth can be very sensitive and just having a very hot or cold drink can trigger pain. This kind of pain, however, is usually not severe enough to warrant concern.
Where pain is intense, your dentist can usually make a reasonable assessment on the phone of whether you need to come in right away or not. Pain relief usually will involve taking an over-the-counter pain reliever and also may involve using an ice pack on the sore tooth. Avoid any kind of heat on the painful area.
Chipped Teeth
If your tooth has been chipped or broken, call your dentist and describe the situation. Most likely, you will be seen immediately. For a minor break, a filling can be used to repair the tooth. For a more serious break, a root canal or crown may be more appropriate.
Knocked Out Tooth
Sports are a common cause of knocked out teeth, particularly in children and young adults. If it's a permanent tooth – otherwise known as adult teeth – then quick action can mean it is saved. If it is put back in right away, it has a better chance of taking root again. If you wait an hour or two, it could be too late. Within the first ten minutes is ideal to save the tooth. Then, visit your dentist right away.
Losing a Filling
If you have lost a filling, try putting something like a piece of softened chewing gum in the place where you originally had your filling. This can help to protect it until you get to your dentist, ideally on the same day.
Problems with Dental Braces
Problems with braces can include a broken bracket or wire. Also, bands can loosen and the wires may even stick out. If any of these issues occur, it's important to contact your orthodontist. If the issue occurred after a blow or injury to the mouth, you may need to go to a hospital emergency room for prompt attention.
Treating Infection
If you have recently undergone dental surgery and are showing signs of infection such as swelling or bleeding, then refer to your post-surgery instructions. Usually, however, this will mean you need to contact your dentist or oral surgeon for information on what to do next. This may require emergency treatment or a visit to your dentist's office. Pain relievers may be appropriate and any topical preparations you may already have received post-surgery.
Solving Dental Emergencies
Dental emergencies can happen to anyone. Often the first question is to ask whether it is indeed an emergency or not. Most dentists will agree that if in doubt, don't sit and wait. Instead, do not hesitate and contact your dentist immediately, as any untreated real emergencies can have dire consequences.
You might also like...