Straight Teeth in Six Months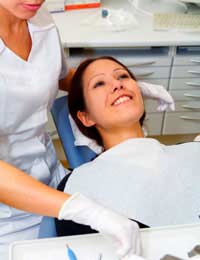 Most people want straighter teeth – whether it's to improve their self-confidence or help them get ahead in their career. But for many, time is a limiting factor. Particularly for adults, wearing old fashioned, obvious metal braces for years is embarrassing, uncomfortable and far from esthetic. The cost of veneers can be significant, putting them out of reach for a number of people, especially where all teeth are requiring veneers.
New Ways to Straighten Teeth
For this reason, technicians are constantly researching new products to introduce to the market that can help reduce the time to obtaining straight teeth. Two new systems are available that meet the needs of those who want to save time on tooth straightening. One works on existing teeth while the other replaces missing teeth.
For existing teeth, there is now a special system of braces that aims to dramatically cut down the time needed to achieve a straight, attractive smile. This particular system was developed in the United States.
What Does the System Achieve?
It works by straightening the front teeth for a reduced cost comparative to traditional braces. It also purports to be less painful than standard braces and similar orthodontics. Another benefit is that it uses clear brackets instead of the noticeable silver ones associated with traditional orthodontic systems. While kids today don't stand out with these older braces, adults do and this new system provides a welcome alternative that's far more discreet.
How is it Different?
Whereas old-fashioned braces take years to straighten out teeth, this new system touts six months to achieve a beautiful smile. In traditional braces, the braces are not only correcting the way that teeth look, but they are also correcting the actual bite. With the new system, only the front teeth that are visible will be corrected. The result is reduced wear time along with reduced pressure and force to straighten teeth.
Who is an Ideal Candidate?
An ideal candidate is someone who is not looking to improve bite function. A person who feels their personal life or their career is being harmed by crooked teeth will likely find this system works for them. Since they're rapid and virtually undetectable, they are less likely to cause visible issues while they are being worn. The system is also not recommended for children and is geared at adults or older teens.
Replacing Missing Teeth
For those with missing teeth, you can achieve straighter teeth in approximately six months just like those who are straightening existing teeth. Dental implants are used to attain this result. A dental implant is a titanium rod that goes in your jawbone. It essentially acts as a tooth root. You can't see dental implants as they are always below the gum line. Dental implants work as an anchor. The prosthetic tooth that you see above the gum line is attached to the dental implant.
How Safe Are Dental Implants?
Dental implants are considered very safe and have a high rate of acceptance, meaning the body rarely rejects the foreign material in the jaw. They can last a lifetime if surgical placement and care are done correctly. Dental implants can replace an entire mouth of missing teeth – known as edentulism.
What if I Have Missing and Existing Teeth?
Dental implants can simply replace some missing teeth if you still have a number of existing teeth. They are superior to many other methods because they result in a stronger biting power. However, they also cost more. To those who choose dental implants though, the improved quality of life is usually well worth the additional cost.
How Long Will it Take?
Once dental implants are placed in the jaw, they take about six months to integrate with your existing bone and mouth. Then, prosthetic teeth are custom made and you can enjoy your new smile. The prosthetics are attached to the implant with something called an abutment. Some systems today can take as little as three months, depending on the individual's circumstances and health and whether it's the upper or lower jaw being treated.
Fear not about leaving the office after the dental implants are surgically placed. You will still be given a temporary prosthesis while the implants integrate into the jaw and customized prosthetic teeth are made for your return visit.
A Straight, Beautiful Smile
If you want to achieve straighter teeth but do not want the lengthy time commitment of traditional methods such as braces, or the excessive costs and maintenance of veneers, then consider modern, invisible braces or dental implants. Many dentists will still work out payment option plans for dental implants. For those who choose the new, modern braces, they can expect excellent results to their smile within six months.
You might also like...