Oral Health Risks for Preterm Birth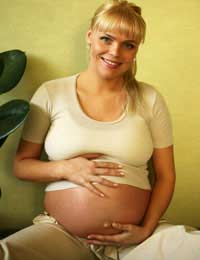 Many factors can contribute to a preterm birth and it is important for any pregnant woman to be aware of these risks. In one study, it was found that for pregnant women who have periodontal disease, having a specific dental procedure could help to reduce the risk of preterm birth. While earlier studies did not show a benefit, the most recent research suggests the treatment can help.
Reducing Preterm Births
More than ten percent of babies are born preterm, which means they are born before thirty-seven weeks of pregnancy. This increases the baby's risk of death and long-term disabilities such as mental problems and gastrointestinal conditions – among many others.
What is Periodontal Disease?
Periodontal disease is a major oral health condition. It involves a gum infection that wrecks havoc on the fibers and bone that keep teeth firmly positioned in the mouth. Pain, swelling and eventually, tooth loss can occur.
While it causes numerous problems for any person who suffers from the condition, it can also lead to a preterm birth. This is contrary to traditional belief that the infection is isolated to the mouth. We now know that it can even cause other health problems for adults throughout the rest of their body.
Non-Surgical Procedure to Treat Periodontal Disease
In this study, however, it was found that if the pregnant woman received a non-surgical procedure involving scaling and root planing, the risks of preterm birth were significantly reduced. It's important to also note that antibiotics are often used to treat the infection but in this study, such antibiotics did not reduce the risk of preterm birth. In fact, they increased this risk for a pregnant woman.
How Scaling and Root Planing Works
Scaling and root planing is actually a very common periodontal procedure. Typically performed by a periodontist, the procedure entails cleaning the tooth of plaque and tartar from the root to the tooth surfaces. This results in the removal of bacterial toxins and promotes a healthier tooth.
Taking Action in the Early Days
Researchers conclude that action must be taken very early on, ideally before a woman even becomes pregnant. If a woman is thinking of becoming pregnant, she should obtain a comprehensive periodontal examination and diagnosis. If a woman is already pregnant and periodontal disease has been diagnosed, she should be treated with the scaling and root planing procedure and not with antibiotic drugs, as the drugs can raise the risk of early labour.
Early Labour from Periodontal Disease
Failure to obtain treatment can mean a higher likelihood of preterm birth. It is not known exactly why this occurs but one school of thought relates to higher levels of prostaglandin and tumour necrosis factor. These trigger labour, resulting in preterm birth.
Simple Steps for a Healthy Baby
Every woman wants to have a healthy baby. Taking simple steps to receive a full oral examination early on can make an enormous difference to the chances of a normal birth. The procedure itself is relatively straightforward should a pregnant woman need it and the results can mean the difference between a preterm birth and one where your baby is at a healthy and normal birth weight.
You might also like...