Treatments for Bad Breath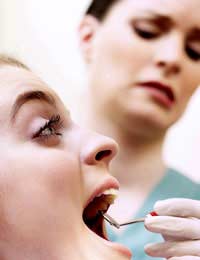 Halitosis or bad breath can be an embarrassing problem for many people, but there are dental treatments that can used to eradicate this problem. There are many factors that can lead to a bad breath problem and your dentist should be the first point of call when trying to detect the cause.
How Does Bad Breath Occur?
Halitosis can simply be caused by improper cleaning of the teeth and gums. In many halitosis cases the cause will simply be food trapped in the teeth and gums. If the food is not cleaned away with regular brushing and flossing then it will attract bacteria on the teeth, gums, and tongue. The result will be bad breath that will not disappear until you have thoroughly cleaned your teeth and gums. Other causes of bad breath can include:
Dry mouth problems including extremely dry mouth known as xerostomia.
Excess alcohol and smoking.
Periodontal disease; bad breath is a warning sign of this disease.
Medical disorders such as infections.
Oral bacteria.
Dentists and Halitosis Treatments
Many people are actually unaware that they have a halitosis problem. It is a problem that can go unmentioned even by the sufferer's close family and friends. A dentist may be the first person who will notice the halitosis, and then he or she will try to detect the reason for the occurrence. It may simply be that proper dental cleaning is needed to eliminate the bad breath problem or there may be a more serious underlying cause.
Periodontal Disease and Halitosis
Bad breath is the first warning sign of periodontal disease, although not in all cases. Periodontal gum disease is caused by plaque that forms on the teeth and gums. If left untreated bacteria will create toxins in the mouth, the gums will recede from the teeth, and damage can occur to the teeth, gums and bone tissue. A proper dental cleaning will be needed, and in some serious cases surgery can be required.
Dentists should be able to spot periodontal disease in its early stages and eliminating periodontal disease should also eliminate the halitosis problem. But if regular cleaning is not adhered to it is a problem that can reoccur. Sufferers should remember that periodontal disease can be genetic and the problem can run in the family.
Regular Daily Cleaning
One of the easiest ways to eradicate bad breath problems is to abide by a good daily dental cleaning routine. However, brushing twice a day with toothpaste may not always be enough to eliminate halitosis. Dental floss should also be used for those hard to reach places between the teeth and gums. Interdental cleaners are also a good dental tool that can ensure food is not missed between the teeth and gums. Always remember to brush the tongue as well; this is major area where bacteria can occur.
Mouthwashes
There are a number of excellent mouth washes and rinses available. However, some are purely cosmetic and will only mask the bad breath problem. Dentists should be able to recommend the best mouthwashes that will help to eliminate bacteria and not just give a fresh breath smell. Antimicrobial mouthwashes and fluoride mouthwashes should be used to eliminate bad breath and may also help prevent tooth decay.
Substances that Cause Halitosis
Tobacco is one of the major causes of halitosis, and smokers are more susceptible to periodontal disease than non smokers. Alcohol abuse is another cause of bad breath and can lead to tooth decay and gum disease. There are also certain foods that can cause bad breath such as garlic or onions. If halitosis is a problem, then sufferers should keep a log of the food eaten over a set period of time. A dentist will be able to detect which food may be causing the halitosis problem.
Halitosis can be a socially debilitating problem but it is not an incurable one. Daily cleaning of the teeth and gums, along with regular visits to the dentist should be enough to keep bad breath at bay. Dentists will be able to give advice and information on how to maintain the best oral health, and how to eradicate any bad breath problems.
You might also like...