Prosthodontics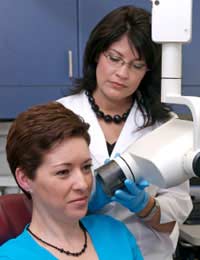 Prosthodontics is a specialised field of dentistry concerned with restoring and/or correcting dental or facial defects. A prosthodontic dentist can be seen as the architect of your smile. He or she will be the one who can advise on the best restoration or construction plan for a healthy glowing, perfect set of teeth.
Prosthodontists work closely with the patient and their main aim is to give the best advice and outline the best treatments that can be given in each individual case. They will also work closely with anyone else involved in the treatment plan including dentists and surgeons.
The Prosthodontist
Prosthodontists are dentists who have undergone further training after qualifying to be a dentist. The work that the prosthodontist carries out is usually the more complex dental work, which a dentist will not be qualified to perform. The prosthodontist will have the necessary training to give the best advice and treatment in restorative and cosmetic work for your teeth.
Referral to a Maxillofacial Prosthodontist
A maxillofacial prosthodontist is another special branch of prosthodontics. The maxillofacial prosthodontist is qualified to perform treatments on patients who have defects to the head or neck that they have either been born with or have acquired through injury or medical reasons. Maxillofacial prosthetics can include artificial ears, eyes and noses. They will also be able to improve speech and swallowing through the use of oral prosthetics.
Prosthodontist Treatments
Technological advances in dentistry mean that losing one or more teeth does not always mean losing a natural smile. The field of prosthodontics has advanced to such an extent that you can lose teeth and have a number of options available in replacing them. The prosthodontist will be able to advise you on the best options for your particular case. There may be a number of reasons why your dentist or doctor has referred you to a prosthodontist and these may include some of the problems listed below.
Loss of Teeth
If teeth have been lost then there may be various options available to you using prosthodontics. Deciding whether to have dentures, a bridge or implant, prosthodontics is partially up to you, but the underlying damage to the gums and jawbone will need to be taken into account when deciding on the best course of action.
A frequent problem caused by loss of teeth will include loss of the underlying bone. Healthy, strong bone is important if considering implant prosthodontics, as the replacement teeth and holding metal need to have enough support to fuse with the jawbone. The prosthodontist will be able to evaluate this for you. He or she will decide whether the best course of action will be dentures, a bridge or prosthetic implants. Other factors the prosthodontist will use to evaluate your options will include the condition of the remaining teeth, the general way your teeth function and your overall health.
Congenital Deformities
The prosthodontist will be able to advise and outline the best course of action to take in the case of congenital deformities. Common congenital deformities the prosthodontist will treat will be cleft palates or lips.
Acquired Defects or Injuries
These are conditions whereby the patient has acquired some form of facial or dental defect through trauma or perhaps as a result of surgical treatment. Trauma could include gun wounds, car accidents and physical violence. Medical defects could result from radiation therapy given to cancer sufferers. Prosthodontics will help rebuild and restore the defects or injuries.
Cosmetic Dentistry
A prosthodontist can be consulted on various forms of cosmetic dentistry. He will work closely with the patient and dentist when advising and performing cosmetic treatments. Common cosmetic treatments can include on crowns for teeth or restorative treatment for unsightly or crooked teeth and dental veneers.
If your dentist has assessed that you need to be referred for prosthetics then he or she will entrust your further dental care to the prosthodontist. Your dentist will be updated at all times on your treatment and once completed you can then return to your normal dental visits. Prosthodontics can give a better quality of life to a sufferer of dental or facial defects and the end results can be life changing for the better.
You might also like...