Orthodontics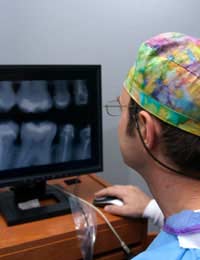 Orthodontics is a field of dentistry that specialises in the development and proper growth of the teeth, face and jaws. There are many people who have used an orthodontic procedure to help with the problems of crooked, crowded or protruding teeth. In the UK almost one million people a year have some form of orthodontic treatment and it has become one of the most popular dental treatments. Once thought of as a procedure aimed mainly at children, orthodontic treatments have now become increasingly popular with adults who are looking to have healthy, straight teeth.
Reasons for Orthodontic Treatment
Orthodontic treatment is usually carried out by a specialist after a patient has been referred by a dentist. Some qualified dentists who have been specially trained can carry out minor orthodontic treatments.
If you have been referred by a dentist for orthodontics it may be due to one or more of the following:-
Crowding:If you have a narrow jawbone then there may not be enough room for your teeth to grow properly, this will result in crowding of the teeth. In other cases some people may have too much space between their teeth.
Protruding Front Teeth:This is one of the most common problems for many people and orthodontics can be very beneficial in this case.
A Deep or Reverse Bite:A deep bite is when the upper teeth will cover too much of the lower teeth, a reverse bite is where the upper teeth will come too far down and bite inside the lower teeth.
Asymmetry:This occurs when the positions of the teeth or jaws have moved too much and the lines of the upper and lower teeth do not match.
Impacted Teeth:Secondary teeth may come through in the wrong space or in some cases they may not come through at all. Orthodontic treatment will be needed to correct this common problem.
Orthodontic Procedures
When you visit a dentist he will make a full oral examination and assessment and decide on the best orthodontic treatment for your case. The examination will consist of x-rays of your teeth and jaws and plaster models of your teeth will also be made. Once the dentist has decided on the scale of the problem he or she may be qualified to carry out the orthodontic procedure or may make a referral to a specialist. Orthodontic procedures can be carried out from the age when all the permanent teeth have fully appeared.
Orthodontic Braces
The appliances commonly used in orthodontics are referred to as braces. There are various types of braces and each is specific to the severity of the dental problem. Braces can either be removable or they can be fixed in place depending on the severity of the dental problem. It may also sometimes be necessary to wear additional head-gear; this is removable and is usually only worn at night.
Braces are now not usually the old fashioned hunks of metal that they once were. Although metal is still used in some braces, there are invisible braces made from thin, clear plastic that can also be used to help straighten teeth. These braces are made in different sizes and are replaced with the next size every two weeks. The length of orthodontic treatments will depend on the severity of the dental problem and the time scale can range anywhere from a few months to around two years.
The Benefits of Orthodontics
Millions of people have benefited from orthodontic procedures. The treatments can correct spacing, protruding teeth, bite problems and relieve strain on the jaws and jaw muscles. Healthy, straight teeth are a great confidence booster and can help people live a more productive and happy lifestyle. Some people have claimed that their personality and demeanour have improved due to the results of orthodontic treatments.
You might also like...