Sedation Dentistry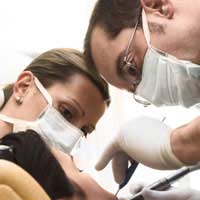 Sedation dentistry or as it is sometimes known, relaxation dentistry, is a method used by dentists when treating patients who suffer from high levels of anxiety towards dental treatments. Sedation dentistry has helped many people overcome their stress and anxiety to dental procedures. It has also helped people who have not visited a dentist in years make that step towards better dental health.
How is Sedation Dentistry Performed?
There are two common types of sedation used by dentists who perform sedation dentistry; oral conscious sedation and inhalation sedation. These are outlined below.
Oral Conscious Sedation
This type of sedation involves the ingestion of oral sedatives before a dental treatment. The sedatives will relax the patient and will give the patient a sense of well being. Anxiety and stress over treatments will be relieved and the dentist will be able to undertake any dental work necessary. The patient will still be conscious and able to understand any instructions given by the dentist.
With oral conscious sedation, the patient will take a prescribed sedative at night before going to sleep and then another sedative on awakening in the morning. Due to the drowsiness involved, the patient must be driven to and from the dental premises. Due to the amnesic effects of the sedatives used, many patients have actually said they could not remember much about the dental examination or operation after it had happened.
Inhalation Sedation
This type of sedation involves the inhalation of Nitrous Oxide and Oxygen, commonly referred to as laughing gas. This method of sedation is frequently used by dentists who favour sedation dentistry due to it's rapid effect on the patient and the speed in which the patient can recover from the sedation. The patient will sometimes fall asleep after the sedation has been administered and will sometimes remember little of the procedures involved. Inhalation sedation has been widely used by dentists for many years.
The Benefits of Sedation Dentistry
There are many benefits to sedation dentistry for both patients and dentists. For dentists the benefits may consist of an easier dental visit. Any dental procedures that need to be undertaken can usually happen in one sitting, whereas there are only so many dental procedures that can be performed on a very nervous patient.
For patients the benefits can be huge; any fear of dental procedures will be quickly eradicated and dental visits are no longer the frightening experience that they once were. If the patient has not been to the dentist for many years then a large amount of work may be needed, thanks to sedation this can sometimes be performed in one sitting.
Choosing the Best Type of Sedation
The type of sedation is entirely up to the individual. Many patients choose inhalation sedation due to the quick recovery time; patients who have inhalation sedation can resume any activities or work straight after the dental visit. The effects of oral sedation will take longer to wear off; this is why patients are required to have someone drive them to and from the dental offices. With oral sedation it is also unwise to operate any motorised vehicles for at least 24 hours after the dental procedure.
Other Forms of Sedation Dentistry
There are other forms of sedation dentistry, such as intravenous conscious sedation whereby sedatives are administered intravenously. The highest level of sedation dentistry is a general anaesthesia administered by injections, inhaled gases or a combination of the two. With general anaesthesia the patient will not be conscious and will be unable to move or feel pain. This type of sedation dentistry is usually only performed at dental hospitals.
Ask your Dentist Questions
If you have a fear of the dentist then call a few dentists and find out if they perform sedation dentistry. Don't be afraid to ask questions on the procedure, ask how many times he or she has given the procedure and if they are certified to practice sedation dentistry. Also ask which type of sedation dentistry they perform.
People who are fearful of the dentists, have a very low tolerance to pain or have had previous bad dental experiences will benefit greatly from sedation dentistry. It can make dental visits a pleasant experience and enable you to smile again with confidence.
You might also like...