Alternative Techniques for Anxiety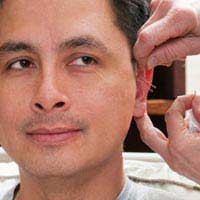 Dental anxiety can strike anyone but some people deal with it on a regular basis. In fact, dental anxiety can be so severe that people will avoid the dentist at all costs. The unfortunate consequence, however, is that a person's teeth, gums and overall oral health can suffer.
Alternative Techniques or Medications?
Sedatives are highly effective but they do come with side-effects. There is also some debate over their safety. For this reason, people may want to either avoid the completely or find something else that allows them to take a lesser dose.
There are numerous drug options but not everyone wants to take medication. For these people then, what options are there for dental anxiety?
Acupuncture for Dental Anxiety
In one study, patients who had dental anxiety were given just five minutes of acupuncture. Out of the twenty patients who received acupuncture, the average amount of anxiety was significantly reduced.
The study was not randomised and did not have a control group though, which means that we have to exercise caution before concluding it will work. But we do know that acupuncture is generally safe and has low potential to harm, so may be worth a try.
Researchers think that acupuncture can make a real difference to people who suffer from moderate to severe anxiety when it comes to seeing their dentist. This could be used on its own or in addition to other alternative techniques. It is thought that it might also allow a person to take less of a medication while others can replace it entirely. Researchers warn it is not a cure but only one tool to help dentists.
Psychotherapeutic Interventions
For people who prefer to use an anxiety technique that does not involve drugs, there are psychotherapeutic techniques that can be used to ease distress. They do, however, require that the person using them with the patient be skilled and highly educated in the field.
This makes psychotherapeutic interventions a more costly option for patients. It might also be challenging for a dentist to locate a qualified person in the field. Even then, most patients probably would not require the service, leaving the dentist faced with the challenge of having the person 'on call' most of the time.
Distraction Techniques
Distraction techniques vary a great deal but often include some form of relaxation therapy to distract patients from the dental procedure and help put them at ease. These approaches might involve a relaxing hand massage. They could also use aromatherapy oils and calming music.
Relieving Dental Anxiety
Dental anxiety can affect the best of us but for those who deal with it regularly, it can prevent them from getting adequate dental care. While the techniques above can help, try to also look at the anxiety itself. Is it a trust issue with dentists? Did you previously have a bad experience?
Try talking to your dentist and be realistic about your fears. You will probably find that your dental visit can be pleasant and give you the security and calm in knowing that your teeth, gums and mouth are healthy.
You might also like...