Snoring and Sleep Apnea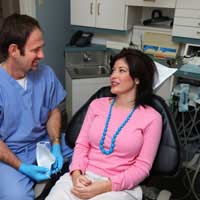 Anyone who has suffered from snoring or from a partner's snoring knows how irritating this complaint can be. Often regarded as a source of amusement by those who do not suffer from this affliction, snoring and sleep apnea can have a detrimental effect on the sufferer's quality of life. Dentists have been working for almost two decades to produce a range of appliances that can be used to minimise and eliminate this very common problem.
Snoring and Lifestyle Changes
Around one third of the population actually snores and for some, this sleep trait can be reduced by simply changing a few lifestyle habits. Snoring may be reduced or eliminated by the snorer simply losing weight, cutting out smoking and reducing or eliminating their alcohol intake. Sleeping in a different position may also be all it takes to actually reduce the problem, but for some people the problem actually goes much deeper.
Sleep Apnea
Sleep apnea is a recurring problem that happens when the sleeper's throat closes and the air into the lungs become limited. Muscles that hold the throat open during the day relax during sleep and the airways narrow. When the sleeper breathes through the narrow airway, the soft tissue will vibrate strongly and the result will be snoring.
The snorer will then try to take in more air but the throat will close completely as the muscles are too relaxed. For the complaint to be called apnea breathing must cease for at least 10 seconds. Breathing can stop for anything up to two minutes for people who suffer from sleep apnea. The sleep apnea cycle can be repeated hundreds of times during the night without the sleeper actually realising it.
Associated Sleep Apnea Problems
People who suffer from sleep apnea will have disrupted sleep patterns and will suffer from low levels of blood oxygen. Obstructed sleep apnea (OSA) sufferers can be effected by sleepiness during the day and the condition has been associated with cardiovascular problems.
Other sleep related problems can include severe headaches, depression and high blood pressure. Although not all people who snore suffer from sleep apnea, snoring itself is a consistent symptom in all sleep apnea patients.
Dentists and Sleep Problems
Dentists have been working on solutions to snoring and sleep apnea for decades. They have come up with a range of solutions and devices to treat various sleep disorders in patients. In the first instance the patients may be referred to a sleep disorder centre for a diagnostic sleep study in order to work out exactly what the problem is. In some cases this sleep study can be undertaken at home.
Oral Appliances
Dentists have come up with a range of oral appliances; one common type of device is known as Mandibular Advancement Device (MAD). These devices are placed in the mouth to prevent the tongue and the throat's soft tissue collapsing during sleep. The device holds the mandible in a forward position and allows the airways to remain open and should eliminate some cases of snoring and sleep apnea.
There are over 40 different types of oral appliances available and it will take consultations with a dentist and examinations to find out exactly the right type of appliance. If the patient is suitable then the dentist will need to custom fit the device including taking impressions of the teeth and bite type. The appliance will usually cover the lower and upper teeth but will be custom made to give the optimum comfort level during sleep.
Positional Device
A positional device is a non-invasive method whereby the sleeper wears a small anti-snoring cushion on his or her back during the night. This cushion should not be noticeable if the wearer is sleeping on their side or stomach and it should prevent the wearer from rolling onto their back while sleeping.
Continuous Positive Airway Pressure
This air blowing device is mainly used for people who suffer from severe sleep apnea. Air is blown through a hose connected to the nose in order to keep the airways open during sleep.
In some severe cases of snoring and sleep apnea laser surgery to the throat area or jaw has produced significant results, although many regard this as the last option. Snoring and sleep apnea can result in years of misery for the sufferer or sufferer's partner, but it is a treatable condition. A consultation with a dentist or doctor may be the first step in regaining a good night's sleep and a better quality of life.
You might also like...