Thumb Sucking and Your Child's Teeth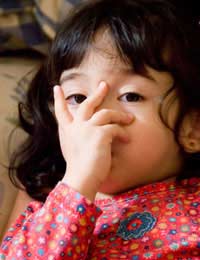 Many children suck their thumbs and in most cases, the habit will be discontinued before it causes any lasting problems. It's especially common in children who are under age two and it can be a sign that a child is hungry. For some babies, it's also a sign of being tired or sleepy. Thumb sucking can serve as a source of comfort to a child.
When Does it Stop?
Fortunately, most kids grow out of this habit but approximately thirty percent of kids will still continue to suck their thumb after the toddler years. By age five, however, the vast majority of those children will have stopped. For most children, the harm begins when permanent teeth start to enter the picture, which happens around the ages of four to six.
For these slightly older kids, thumb sucking can be a way to handle stress, anxiety, fatigue or boredom. How intensely a child sucks his or her thumb can also play a part in the extent to which the action harms a child's teeth and mouth.
Problems in Your Child's Mouth
If your child does continue to suck his or her thumb, you should be aware of what can go wrong. Problems include:
Overbite
Misplacement of teeth
Misalignment and positioning
Poorly shaped jaw
Difficulty chewing
Improper tongue placement
Pushed out upper teeth and inward lower teeth
Speech issues
How to Stop Thumb Sucking
The key here is that the thumb sucking poses a greater problem once permanent teeth start to come in, which means you need to stop the habit before this occurs. If a child can't stop alone, you will need to ensure that help is available. Above all, refrain from pressuring your child to stop as this can have the opposite effect.
Try speaking to your child about comfortable ways to stop the habit and why it is important to do so. Offering praise for when they manage to avoid sucking their thumb can be a good way to give positive reinforcement. If the thumb sucking directly relates to some source of stress, then removing that stress can make all the difference. Alternately, find other ways to provide the comfort they seek.
Tactics for Thumb Sucking
Some parents find that putting a sock over the child's hand at night can help to stop the thumb sucking. There are also some bitter substances specifically developed to put on the thumb, giving it a taste that repels the youngster.
When all at-home methods fail, your dentist may want to use an orthodontic device that has short spikes to prevent a child from sucking their thumb. Other milder devices are worn over the child's wrist and prevent them from sucking as they normally would. These kinds of devices, however, should only be used if your child is agreeable and should not be forced on a child.
Working Together for Good Dental Health
You do not have to deal with your child's thumb sucking habit alone. Talking to your dentist and obtaining support and advice at an early age is important for the dental health of your child. Sometimes, just having a dentist speak to your child about the issue of thumb sucking can make a big difference. Together, you can all find ways to comfortably stop the thumb sucking and help your child have a healthy mouth and teeth.
You might also like...