Dental Care For Young Adults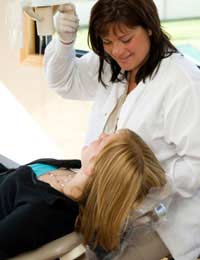 An all too common problem for young adults is dental neglect. Once children have stopped visiting the dentist with their parents and their time becomes their own, dental visits no longer seem as important. However, good dental care for young adults should consist of a daily dental routine that will ensure they stay free from cavities, infection and tooth decay.
Common Dental Problems for Young Adults
Gum Disease
Young adults usually have a healthy immune system that will fight off most infections but gum disease is one infection that can appear without notice. Teenagers and young adults are the number one consumers of fizzy drinks, and the sugar in these drinks is a major cause of plaque. If plaque is allowed to form on the teeth and is not removed daily then gum disease and tooth decay may be the result. This can not only lead to embarrassing social problems such as bad breath, but if left untreated may progress to serious diseases such as periodontitis.
Orthodontic Treatments
Many young adults will require orthodontic treatments in order to correct crowded, crooked teeth or problems with jaw alignment. Orthodontic braces will usually be enough to correct the problem and are usually fitted before the teenage years. However, these orthodontic treatments can begin anytime after the permanent teeth have formed and adults are also opting for orthodontic treatment. The results to appearance are extremely beneficial and can boost confidence and lead to a better quality of life.
Sports Related Dental Injuries
Many young adults play sports where it is quite easy to damage their teeth. Care should be taken to always use some form of mouth guard when playing contact sports. It is quite easy to chip or break front teeth, and secondary teeth do not grow back in.
Oral Piercing
The popularity of oral piercing among young adults has grown considerably in recent years but there can be some detrimental effects to dental health. The jewellery used in a tongue piercing has been known to chip or fracture teeth. A bad piercing can also lead to oral infection that can then lead to infections of the gums and ultimately tooth decay. It is wise to have routine dental check-ups so that a dentist can detect any signs of fractures or infection that may be caused by the piercing.
The food that teenagers and young adults consume will also play a major part in how healthy their teeth and gums are. Fast food and snacks are all high in sugar or starches, each time this type of food is consumed, acid will attack the teeth for around 20 minutes. Good dental care for young adults needs to include a balanced diet of healthy fruit and vegetables. Snacks, fizzy drinks and fast food should be kept to a minimum.
Regular Dental Visits
Good dental care for young adults must include regular dental visits; check-ups should happen at least every six months. This is vital in order to detect any early signs of gum disease, infection or tooth decay. Many young adults never bother to visit the dentist until the first sign of a toothache appears. Leaving a visit until pain appears may be too late in the detection of gum disease.
Cosmetic Dental Treatments and Young Adults
Cosmetic treatments, such as the bleaching and whitening of the teeth, have become very popular among young adults. If too many of these treatments are performed the bleaching agents can damage the enamel of the teeth. Bleaching kits that can be bought over the counter or by post may contain chemicals that can damage the teeth if used frequently. Any type of cosmetic dental treatment should only be performed by a qualified dentist who can regulate the amount of chemicals used and advise on the best options available that will not harm the teeth.
Good dental care for young adults should primarily focus on a dental routine of brushing twice a day with fluoride toothpaste and flossing at least once per day. Regular visits to the dentist, at least twice a year, will ensure that problems are detected sooner rather than later. Today, young adults have greater access to good dental health treatments than ever before and if this is taken advantage of, dental problems should rarely become a problem.
You might also like...