How Often Should Patients Visit The Dentist?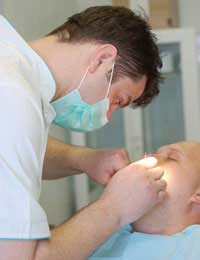 Regular dental visits are a necessity in order to ensure healthy teeth and gums but they are also vital for the early detection of the various types of oral infection that can occur. Professional dental cleanings should also be a regular occurrence to remove any plaque that has built up on the teeth and can lead to cavities and more serious conditions such as periodontal disease.
Frequency of Dental Visits
For people who practice good, at home dental hygiene, a dental visit every six months is recommended. This time scale is recommended for around 75 percent of the population, although it is thought that a great number of this percentage will visit the dentist less than the recommended bi-annual guideline. The remaining 25 percent, who will need more frequent visits are those who have some form of oral disease history.
Gum Disease means Frequent Dental Visits
A number of people who have some form of gum disease will need to have more frequent visits to the dentist. People who have a history of continual gum disease or have active gum disease require frequent attention in order to make sure the disease is eradicated and does not reoccur.
Plaque will also attack certain people's teeth more aggressively than others. In these individual cases a professional cleaning by a hygienist is needed to remove the plaque with metal scrapers. If the plaque is not removed then gum disease can occur or reoccur. There are also people who have mobility problems and lack the strength in their arms to adequately remove plaque before it builds up. People who are pregnant, have diabetes, HIV infection, or are heavy tobacco and alcohol users are also more susceptible to oral diseases, and may need more frequent dental visits.
Dental Cleanings by a Hygienist
Many people simply love getting their teeth professionally cleaned, and it is not unheard of for patients to visit the dentist once a month to have this service performed. The regular bi-annual cleaning by a hygienist together with the dental check-up by the dentist should be enough to ensure healthy teeth, but if you are willing to pay for more visits, it is entirely up to you. Professional cleaning by a hygienist will leave the teeth looking and feeling extremely healthy, and should give an added guard against plaque build-up. But if at home dental hygiene is not also adhered to then it only takes a matter of days before plaque can once again build up.
Length of time Between Dental Visits
Although the recommended bi-annual check-up is recommended to get the most from your dental visit, many people will leave it longer between visits. Dentists agree that many patients can tailor their visits towards their own needs without any undue harm to their dental health. If you are a healthy adult or child with no history of gum disease and practice a daily dental regime, then the time between visits can be lengthened. However, one of the main problems with gum disease is that it can creep up without notice and only a dentist can spot the early signs of gum disease before it actually takes hold. This is one of the main reasons that bi-annual dental visits are recommended; six months is a long time if gum disease is allowed to progress untreated.
What to expect at a Full Dental Exam
During a full dental exam the dentist will be checking the soft tissue, screening for periodontal disease, examining cavities and checking the condition of any previous restoration work. The soft tissue examination will include the tongue and underneath the tongue, roof of the mouth, cheeks, back of the mouth and salivary glands. The dentist will be checking for any changes in the soft tissue that could be cancerous or precancerous, early detection of these changes is vital for any treatment to be successful.
Periodontal disease examination will focus on measuring the gum tissue that holds the teeth in place, and again, changes in the tissue need to be detected early to prevent the disease from taking hold. At the exam the dentist will also inspect every tooth for cavities and decay and x-rays should also be taken to detect diseases that are unseen by the eye.
Regular dental visits are a wise option if you want to maintain healthy, disease free teeth and gums. Skipping a few dental visits may ultimately not harm your teeth but there is always a chance of unseen gum disease taking hold. Your teeth are an important part of your body, and two visits to the dentist a year is not too much to ensure problem free teeth and gums.
You might also like...