How Dental Bridges Work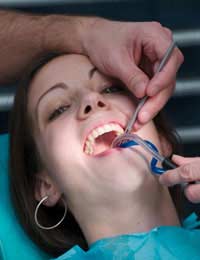 If you have lost one or more teeth then dental bridges can be an excellent alternative to dentures or costly dental implants. Dental bridges do exactly as their name suggests; they bridge the gap between healthy teeth to give a natural looking smile. Bridges are fixed, which means they are non-removable, this is the reason some people favour them over removable dentures.
How Bridges Work
Bridges consist of two porcelain crowns that are attached, either side to your strong, healthy teeth. The false teeth or tooth, known as the pontic, is fused between the crowns, and the crowns are then attached to the healthy teeth. Bridges have the ability to cut gum disease and help occlusion (bite) problems. They are also hard wearing and can have a time-span of around ten years, sometimes more.
Types of Dental Bridges
Cantilever Bridge
This type of bridge can be applied to areas where there is less stress, commonly the front teeth area. Cantilever bridges are also used when teeth are only available on one side of the space. This type of bridgework involves anchoring the pontic to one side over one or more adjoining natural teeth.
Traditional Bridge
The traditional, fixed bridge will be used to replace one or more missing teeth. This is used when the false tooth is supported by healthy teeth on either side of the gap. The fixed bridge is the most common type used and consists of ceramic or porcelain that is bonded to metal. If the teeth on either side of the gap are not strong enough to support the bridge then the dentist may consider using dental implants as a support.
Bonded Bridges
Bonded bridges are a cheaper alternative to traditional bridges and are common if the rest of the teeth are very healthy. The false teeth are made of plastic and are supported by metal. The fused metal is bonded to healthy teeth by means of a hidden resin. This type of bridge is particularly good if you have healthy teeth as a minimum amount of work is then needed on the supporting teeth.
The Bridge Treatment
If your dentist has decided that you are a suitable candidate for a bridge he will begin the treatment by preparing the teeth that will be used to support the bridge. This will usually be performed under some form of sedation; filing of the teeth or the building up of decayed teeth may be required. Your dentist will then take an impression of your mouth and teeth then create a model that will be sent to a lab technician who will create the bridge to be made.
Colour charting will also be undertaken in order to match the adjoining teeth exactly. While the permanent bridge is being constructed, you will normally be fitted with a temporary bridge. On your next visit the bridge will be fitted, adjustments made, and then the bridge will be bonded into place.
Advantages of Bridges
More natural looking than dentures
Requires minimal dental visits
Can last for around 10 years, or longer
Disadvantages of Bridges
Requires a commitment to at home dental hygiene
Teeth may be sensitive to high or low temperatures for a few weeks after fitting
Although strong, care must be taking when eating certain hard foods
If you have a missing tooth or teeth, then dental bridges are less costly than implants, and more natural and comfortable than dentures. Bridgework does not take a lot of time and the treatment can be completed in around two dental visits. As long as you adhere to a good regime of dental hygiene in order to stay free from plaque and infection, your bridge should stay problem free and last for around 10 to 15 years.
You might also like...