Tooth Contouring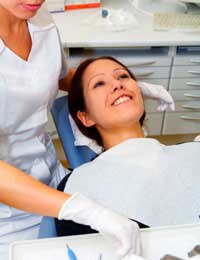 Tooth contouring is a dental procedure used to reshape or change the appearance of one or more problem teeth. The procedure is also sometimes known as tooth reshaping and tooth sculpting. Contouring is usually regarded as a cosmetic treatment as the process changes the shape and appearance of the teeth. Tooth contouring is quick and painless, and in some cases it can even be used as an alternative to braces.
Suitability for Tooth Contouring
You may be a suitable candidate for tooth contouring if you suffer from dental problems including:
Chipped or fractured teeth.
Cracked teeth.
Overlapping teeth.
Crooked teeth.
Teeth that have grooves or holes.
Your suitability for this type of treatment will also depend on just how healthy your teeth are. Each case will be different but the dentist will need to establish if you have enough bone and tissue support for this type of treatment. Your teeth will also need to be very strong if there is to be a large amount of enamel removal. There have been cases of over contouring causing teeth to become sensitive or prone to breakage.
Benefits of Tooth Contouring
In terms of the winning smile factor, tooth contouring can make all the difference. If your smile is hampered by aesthetic problems such as overlapping, cracks or holes then contouring can be an easy fix. It may only take a few millimetres of reshaping and a small amount of bonding material to change the appearance of your teeth and to eliminate your dental problems.
As tooth contouring is regarded as a cosmetic procedure you will usually have to pay for these treatments. Your dentist will no doubt be able to ascertain if you are a suitable candidate for contouring.
The Tooth Contouring Procedure
The first step in the process will be the use of x-rays to ascertain the strength of the teeth, tissue, and bone. If the dentist feels you are suitable then a computer imaging process may be used to show how you will look after the contouring process.
The teeth may then be marked with a pen before the procedure is performed. The instruments used in the sculpting can be sanding drills, lasers, and abrasive strips. The process may also involve the bonding of materials to the tooth to cover blemishes, fill chips and cracks, and the change the colour of the tooth. Once the contouring has been completed then smoothing and polishing should be the final step.
Anaesthetics during Tooth Contouring
Tooth contouring is a relatively quick process, and depending on the scale of the problem can be achieved in one to three visits. It is also relatively painless, and in a number of cases no anaesthetics will be needed although an anaesthetic may be used with particularly nervous patients. If the patient is anxious, the use of an anaesthetic will be of benefit to both the patient and the dentist. A nervous patient is more likely to move around during the treatment; not good for detailed contouring.
Your dentist may recommend a number of other treatments to compliment the contouring procedure in order to give the desired appearance to your teeth. These can include composite bonding or various types of veneers to give your teeth a more natural appearance. Whether or not you have these additional treatments will be entirely your choice but it may save time and money in the long run to have the treatments performed at the same time.
Tooth contouring is an excellent choice as permanent cosmetic procedure for patients with problem teeth. The procedure is relatively quick and painless, and compared to some cosmetic dental procedures, inexpensive. By using dental contouring, it may only take one or two dental visits to gain the smile that you have always wanted.
You might also like...