How to Avoid Bad Cosmetic Dentistry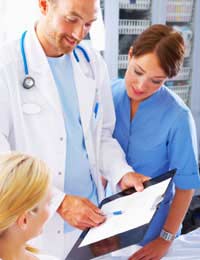 With your smile being one of the first things people see, it's no wonder that cosmetic dentistry is bigger than ever today. In fact, getting that beautiful smile can seem easy when you look at the abundance of adverts today promising perfect teeth. But what about when things go wrong?
The Bad Side of Cosmetic Dentistry
While it's positive news to know that most any aesthetic qualm can be remedied with today's modern dental techniques, the bad news is that there are many things that can go wrong. More often than not, however, things tend to go wrong when the dentist isn't one who has the appropriate expertise in the cosmetic dental technique being used for the procedure.
Dental Training
To really understand how it works, you have to consider dental training itself. While 'basic' dental training is still extensive and lasts for years, the training has less of a cosmetic focus and more of a health and function focus.
To truly excel in cosmetic dentistry, a dentist will want to partake in extended training as well as interning initially with an experienced, respected practitioner in the field. If you consider that it's estimated a quarter of cosmetic dentistry a year is spent on fixing work from another procedure, you can see how it's worth taking the time to choose the right dentist the first time around. If it's done right, you can have the smile you've always wanted but if done wrong, you could be looking at years of pain and additional costs.
Getting the Best Results the First Time
To get the best results you can the first time around, you have to approach dentistry like research. This means doing your 'homework' by reading about the dentist, checking his or her credentials and finding out about previous work with patients.
Before and after photos are a must. Of course, don't overlook your own gut feeling too. If you speak to the dentist and don't feel comfortable, then that's a good enough reason not to continue. While some trepidation about a procedure can be normal, a lack of openness and communication with the dentist can spell disaster.
Tips to Help You Choose the Right Cosmetic Dentist
First and foremost, make sure that you and your dentist are on the same page. This means realistic expectations of what the end result will be for your teeth and mouth. The last thing a dentist wants to hear is that a patient expected something else.
You need to take some responsibility for this aspect by being clear and realistic in what you want as well as listening to your dentist's feedback. Both sides should have a clear understanding of what is being done and what results are expected.
Speak With Past Patients
As mentioned, before and after photos are important but you can also ask to speak with past patients as well. Sometimes, this can help to establish whether your dentist communicates well with patients. If you're already having a cosmetic 'redo' then you may want to see what kind of work was done to remedy the poor work of other dentists.
Bring in Photographs
Pictures are a good way to show your dentist what you want. While they likely won't be the same as your own result, of course, they can still help your dentist to understand exactly what it is you want to get from the procedure. Whether it's photographs from a magazine or even of yourself when you were younger, they can help to establish what you want from the cosmetic dentistry procedure.
Look at Continuing Education
A dentist who is truly committed to the area of cosmetic dentistry will devote time each year to bettering his or her skills. As cosmetic dentistry rapidly evolves, a dentist simply must spend time learning new techniques in the industry. Any dentist who doesn't take this aspect seriously is one you don't want to have working on your teeth and mouth.
Consider Function, Not Just Appearance
Some procedures are to improve function and not just your appearance. Make sure you don't just discuss the aesthetics but that you also speak about the anticipated result in terms of how your mouth and teeth will function on a daily basis. Your facial structure and jaw could be affected and you need to understand what to expect.
Model Forms to Preview Results
Make sure your cosmetic dentist lets you preview the results via a model made to show how teeth will appear after the procedure. You should get this visual representation to help you understand how your teeth will realistically look after the work is completed.
Enjoy Your Smile
If you take the time to properly research your cosmetic dentist, you can save yourself pain and trouble down the road. Also keep in mind that the adverts for new procedures that you see in the media can be exaggerated. Look for established studies that demonstrate a new dental procedure or whitening treatment is effective. With a bit of care and time, you can get the right procedure successfully done, giving you a smile you will enjoy for many years.
You might also like...